This month we are going to feature one of our best-selling brands, FACE A FACE. FACE A FACE was founded in France in 1995 but their headquarters is located in Denmark. Their design team is still located in Paris and draws their inspiration from modern art, architecture, contemporary design and fashion trends.
Pascal Jaulent, one of the founders, stated "FACE A FACE is more than just a brand. It's a reflection of the best the world has to offer. Each frame is a handcrafted work of art. There is luxury in every detail. And each new collection is evolution by cultural selection. It's about audacity and aesthetic frontiers. It's style and attitude. And after a quarter of a century, FACE A FACE is still at the cutting edge."
Their quality meets our high standards and are made in France, Italy or Japan depending on the expertise required to make the frame. We have been pleased to carry FACE A FACE for many years. Each new release continues to meet our standards of "color, style and quality".
Recently, FACE A FACE has released several new collections that we are excited to share with you. We have selected various colors from the following new releases to meet your personalized fashion and style.

Quartz 2:
These charismatic and expressive optical frames evoke the facets of a crystal. The sculpted eye emerges from the transparent border, a crystalline structure that is as precious as it is precise. These frames are handmade in France and use two tone acetate and have a faceted shape reminiscent of quartz crystal. The color palette uses ultra-violets, opalescents and futuristic gradients to provide a unique look.

Havine:
We are excited to announce that we are now going to carry some men's frames from FACE A FACE. With these Havine frames a double line traverses the rims like a horizontal beam that then extends along the temples in perfect alignment. This concept metamorphosizes between neon colors and Havana browns. The new "must have" for men. These frames are hand crafted in Italy. They have carved sides and six high-precision bondings with two-tone acetate, integrated flex hinge, and the double line horizontal beams that brings a unique and fashionable style for your face.


Rotko 3:
Our 2nd collection for men from Face A Face is the Rotko 3. The Rotko vibe is intensified with this new shape! Artistic inspiration meets technological know-how. These frames are inspired by the American painter Mark Rothko's abstract paintings, giving them a classic yet unique style. These frames, crafted in Japan, have a color interaction of either tone-on-tone or contrasting finishes. A metal or acetate construction combined with unique palette colors is where smart and sporty meet.

Meryl:
The perfect balance between the obvious and the impertinent! These distinctive glasses combine fine lines with sleek volumes - a fully unleashed look created through the expression of FACE A FACE's iconic expertise. These frames are hand-crafted in Italy. Unique features are thick end tips that are joined by wide yet sleek temples. These frames come with a new and explosive color palette, using ultra-violet and neon shades to provide an amazing look.


Daria 3:
Daria frames have always been loved by our FACE A FACE customers. The Daria 3 line is a new release for 2022. Inspired by designer Daria Zinovatnaya's linear interior designs, a hand painted line of lacquer serves as the link between the strong elements. Energy and light are combined in the new Daria frame shape. Handmade from France these frames have alternating solid materials and graphic transparency to add to their classic look.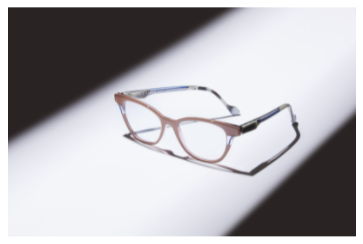 If you are in the market for new eyewear and desire a unique style or to just refresh your look, stop by our showroom where we will provide personalized service and show you these new selections. If you would like to learn more about FACE A FACE, check out our collections page featuring more details and videos: Face A Face Brand Page. We look forward to seeing you soon!